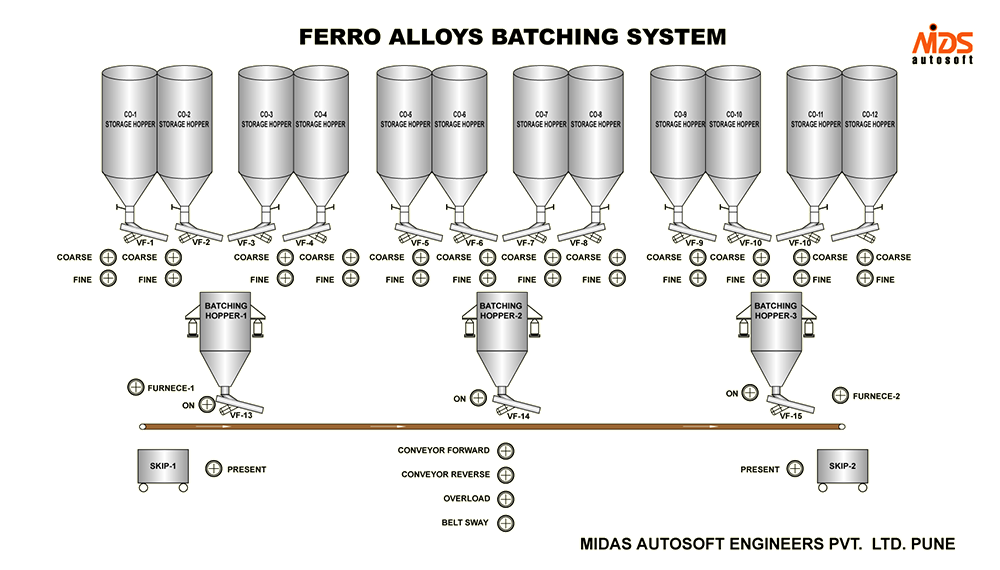 Ferro Alloys Batching System
System Description: Raw material from ground hopper is discharged on a conveyor. It is conveyed on reversible conveyor located on top of day bunkers / storage silos. As per requirement, reversible conveyor will discharge the material on two shuttle conveyors to fill up day bunkers / storage silos. 12 day bunkers / storage silos are provided for 12 different raw materials. Vibrating feeders are provided below day bunkers in coarse and fine mode. 3 weigh hoppers are placed below day bunkers.
Each weigh hopper is installed on suitable capacity imported Load cells to get Weight Indication on batch controller. Batch controller will process load cell mV signal into 4-20mA / RS485 / Ethernet and connected to PLC for automation. Batch conveyor will carry & discharge the batched materials on the furnace charging conveyer.
Auto Mode
PLC programming is done as per the composition of batching operation. It will have flexibility in selecting random component recipe. PLC, SCADA is integrated with program. Total plant batching operations can be monitored from the PC screen i.e. SCADA with required reports like heat, consumption, shift report.
Semi Auto Mode
The Batch controllers having facility to program for individual inputs, outputs ,set point timers, discharge, manual components, etc. Batching panel will have Mimic diagram of the complete Batch system to know the status like ON/OFF/OL/FWD/REV of the field Instruments.
Manual Mode
The required switches provided for Manual mode operation like Start / Stop / Forward / Reverse for Belt conveyors and Coarse / Fine for Vibrating feeder. Speed operation to charge the raw material in weighing hopper in fast or slow process with the use of its Coarse / Fine Pot which decides its frequency to achieve good weighing accuracy in desired batch / heat within stipulated time period.
Midas Autosoft

is the perfect Engineering Solutions Provider for your next project!